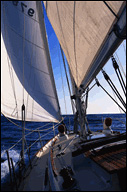 The Longview Difference:
1. We are an independent (no bias toward parent company products), fee-based (little conflict of interest or commissions on investment products), registered investment advisor (fiduciary duty to always act in the best interests of our clients). Our client's trust is our most important asset.
2. Experience. We have 25+ years of successful experience as a Wall Street analyst, mutual fund portfolio manager (managing funds of several billion dollars), head of equity research for a major mutual fund firm, hedge fund portfolio manager, and wealth management advisor. Our clients get the best strategies and products.
3. Use of Exchange-Traded Funds (ETF's) which have numerous advantages such as much lower expense ratios and better tax efficiency than other investments. Our client's total expenses for investment management are about half as much as many other advisors that still use mutual funds.
4. The Longview Asset Allocation System. We use strategic asset allocation and Nobel Prize winning Modern Portfolio Theory to help our clients stay diversified and maximize their returns while maintaining their target risk levels.
5. Outstanding personal service. Because we are a boutique firm focused on a smaller number of high net worth clients we can provide a higher level of customized service to each client. Keith has been selected as a"5-Star Wealth Manager" by Minneapolis/St. Paul Magazine and Twin Cities Business Magazine for 2016, 2017, 2018, 2019, 2020, 2021 and 2022.